PokerStars is part of Flutter Entertainment Plc; a global sports betting, gaming and entertainment provider which brings together exceptional brands, products and businesses and a diverse global presence.
We are a business created by poker fans, for poker fans.
Poker is part of our DNA and runs through the core of everything we do. Today we are one brand with three distinct flavours across poker, casino and sports. Our products are industry leading and played by millions of registered customers across the globe.
Our presence can be felt all over the world. With licenses or related approvals to operate in 21 jurisdictions, we're one of the most regulated online gaming companies in the world. Our global offices and multicultural environment give us a unique perspective on the industry.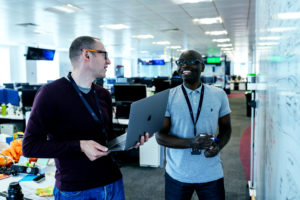 Our people are the lifeblood of the business.
We're home to a rich tapestry of ages, genders and nationalities; connected through a love of gaming and the pursuit of excellence. Every day we draw on a wealth of experience, skills and ideas incubated in over 60 different countries across the world.
We strive towards one goal, using our attention to detail and desire to be the best at what we do. The vision: to be the world's number one iGaming destination for players; the mission: to maintain momentum and continue to innovate and drive our success.
Learn more about life at PokerStars by visiting pokerstarscareers.com, or view our latest job opportunities in Leeds here.